The way a buyer chooses and purchases his or her next vehicle is nothing like the process was 10 or 15 years ago. Potential customers are moving online, but they aren't out of your reach.
You can use online lead tracking to connect with leads.
Download the Lead Tracking for Auto Dealers eBook to learn how to turn online browsers into real-life customers.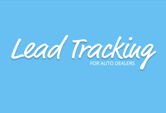 Our eBook explains how to:
Use online lead tracking software
Start — and maintain — digital marketing strategies for your dealership
Deliver qualified leads to your sales team
Unlock the full potential of available online data
Fill out the form on your right to get your free copy and learn how to connect with customers online!