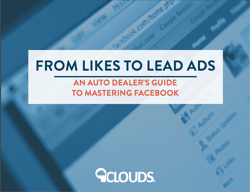 Facebook has definitely changed. It has grown from a social network to share pictures with your close friends to one of the strongest lead generations tools available.
It's all about how you harness it.

With the growth of Facebook into the lives of people everywhere, tools have been created to help businesses. This eBook will help you plan your digital marketing resources accordingly.
Our eBook explains:
How to create your Facebook strategy
How to use Facebook tools available to you
Which tools make the most sense for your dealership
How to target the strongest leads
How to analyze your results
Get your free copy and graduate your Facebook knowledge and mastery to the next level. Fill out the form to the right and get after it!